Over 100 Palmerston North children are now much better equipped to take care of their own oral health, thanks to the initiative of two individuals passionate about helping children lead healthier lives.
Dental Hygienist Kelly Roberts, who works at Lumino Palmerston North knew through her teacher friend Anna Lindsay that there were kids not being given the opportunity to learn about the importance of oral health.
Together, Anna and Kelly started an initiative at Milson School where Anna teaches, in which Kelly would take the children through the basics of oral hygiene, demonstrate proper cleaning technique and outline what foods and drink are good and bad for your teeth.
Both Anna and Kelly agree the day was a great success.
"The children absolutely loved having Kelly in, and still talk about it daily and are very keen on brushing their pearly whites," says Anna.
"From a teacher's perspective it was amazing. Kelly had them all hooked for over half an hour, which is not always easy with 5-year-olds and the resources were perfect."
Kelly saw and taught over 100 children in one day, and Anna says she made an impact on every single one of them.
"I hope that the children realise how important the simple task of brushing their teeth is. They all took toothbrushes home with them, as well as having a brush in the class. Some children were given a few brushes for their siblings also, in the hope the children would educate their whanau," says Anna.
Toothbrushes were also being kept at school, and teachers are planning on incorporating brushing into their daily school routine.
Anna says she hopes the education will result in healthier mouths – less fillings and teeth extractions later in life "as they now realise why they are brushing and looking after their teeth."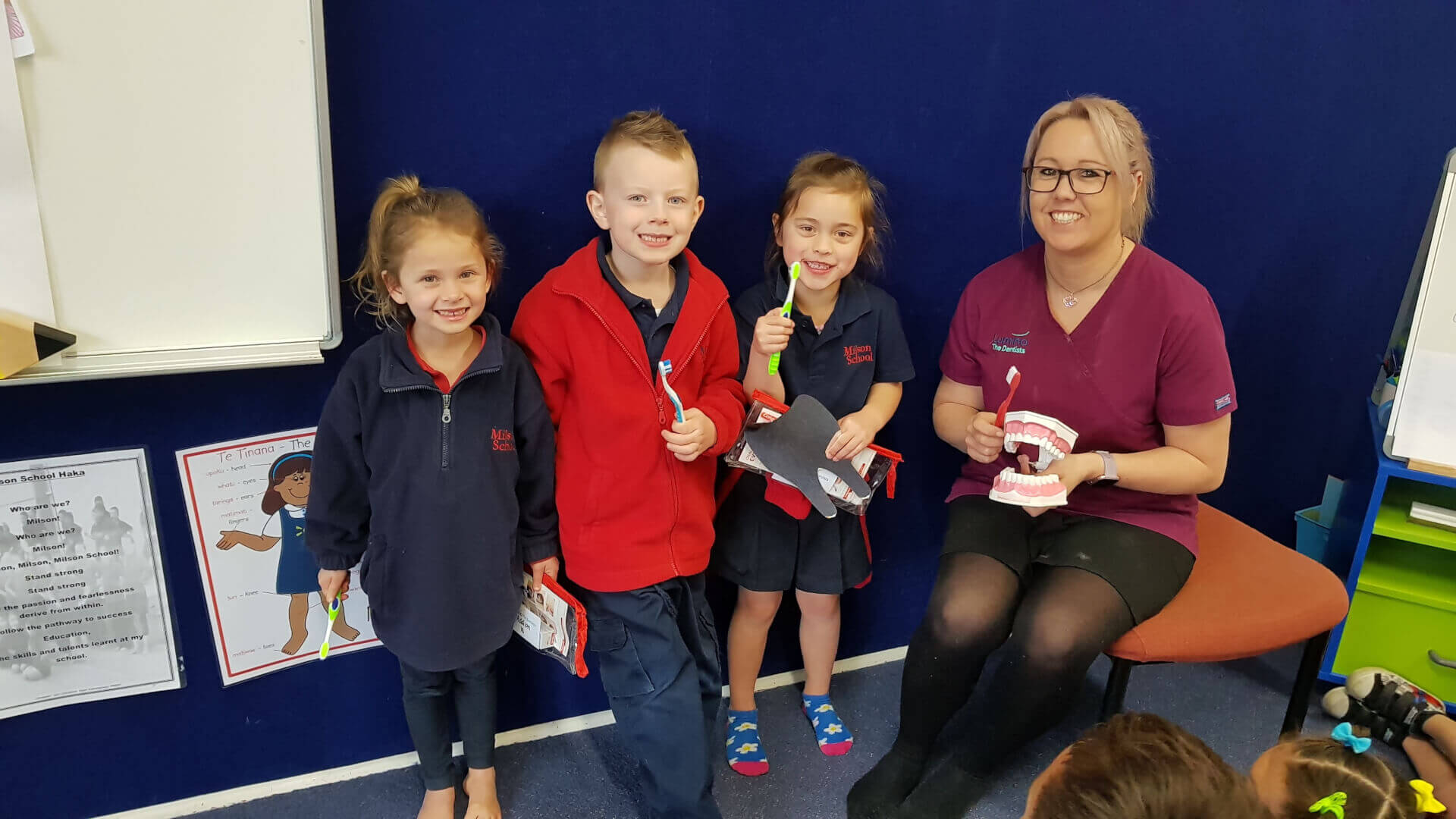 Lack of education a worry
Kelly says she worries that a simple lack of education is partially behind the shocking statistics of dental decay in children.
"The one thing that I keep coming across is a lack of education on why we need to look after our teeth," says Kelly.
"When I graduated I volunteered on a community dental bus that ran on a monthly basis and I found that once I explained why we brush and why flossing is important it clicked as to why dentists and hygienist are always going on about it," she says.
"If we can educate kids and teach them good home care and healthy eating then it will hopefully help prevent a few fillings for kids and make the dental experience a positive one," she adds.
Kelly says she loves educating her patients, especially the ones that are really interested and want to make positive changes in their lives.
Major back-log in Manawatu

It has been reported that thousands of children in the Manawatu area are missing out on their annual check-ups, resulting in hundreds suffering dental problems so severe, they needed treatment under general anaesthetic.
The major back-log, stretching back years, has been causing alarm at MidCentral DHB's child and adolescent oral health service and has resulted in young children needing rotten teeth extracted or needing restorative work done.
"It highlights the need for education in the schools," says Kelly.
Anna agrees, saying she hopes more children have the opportunity to learn about dental hygiene. "Each child in New Zealand deserves to understand the importance of brushing," she adds.
Kelly says she hopes to educate even more children from other schools in the Palmerston North area, through this initiative.
If you'd like to keep on top of your or your child's oral health, contact us on 0508 586466, alternatively you can book online.