Another shipment of donated dental materials, text books and instruments from New Zealand have made their way to Cambodia, thanks to the work and efforts of Christchurch Orthodontist Peter Fowler.
Peter, from  Ilam Orthodontics, co-chairs the 'Friends of Clefts in Cambodia' (FCIC) an international community of people whose aim is to improve the lives of all individuals affected by orofacial clefts in Cambodia.
He has just returned from another annual mission, an experience he describes as extremely rewarding.
"It is very rewarding to work with the Cambodians who are struggling with limited resources to provide a sustainable multidisciplinary approach to care for children with orofacial cleft," says Peter.
"They are extremely appreciative of the teaching, mentoring and support that visiting overseas clinician's bring to them," he adds.
"On my most recent visit I meet a young lad who had a rare Tessier Type "0" orofacial cleft, which essentially is a midline orofacial cleft that extends from the centre of his mouth to the base of his forehead, producing a split within his upper lip, nose and midface structures," says Peter.
"His cleft repair by visiting Taiwanese's surgeons was outstanding, although he still has obvious dental and orthodontic needs that are being meet by the local team."
The FCIC is based at the National Paediatric Hospital, Phnom Penh, and more recently  Angkor Hospital for Children, Siem Reap.
Peter also provides teaching to the postgraduate orthodontic students at the Dental School, University of Health Sciences, Phnom Penh.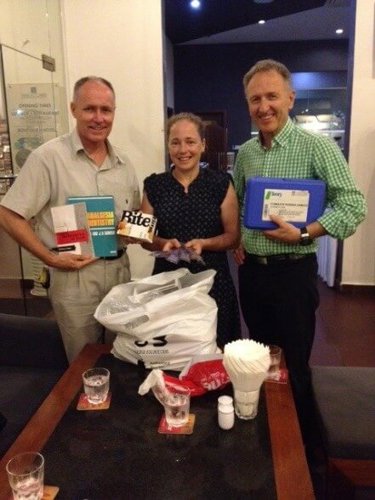 The donated dental materials and books are distributed by Peter's 1981 Dental Classmate Callum Durwood, who is Dean of the Faculty of Health Sciences, at the  University of Puthisastra, Phnom Penh.
Peter says Callum makes excellent use of the donated material and instruments for use by volunteer dental services for under privileged children, many in local orphanages, as well as those with orofacial cleft.
In addition, Callum also arranges for dental services for adult prisoners who have no access to dental care.
Any expired materials are used by Callum and his students in simulation clinics and if the local volunteer groups are well supplied with certain items, then the surplus is passed onto volunteer colleagues working in neighbouring Miramar.
As well as his work at  Ilam Orthdontics, Peter also works one day a week at Christchurch Hospital working with cleft lip and palate and special needs children.  Special thanks to all the Lumino practices across New Zealand who donated materials for Peter's mission.