It's a season of change at Takanini School in South Auckland.
Tummies are filled with a hearty breakfast, students are busy rehearsing in the school hall while a table of baked goods sits waiting to fuel them up for the rest of the day. In the hall kitchen, loaves of bread sit ready for the kids to take home to share with their families and boxes of tinned goods sit in an office ready to go.
All the food is donated through various organisations, made possible by the work of the school's new wellness programme – The Painga Project. It's a project which was urgently needed at the Decile 1 school of around 400 students.
As well as plenty of change, there remains plenty of need.
"Plenty of kids come to school hungry, they don't have lunch either," says Sarah Corson who runs the programme – currently still in its pilot stage.
She tells us many of the students do not own a toothbrush either, which is why Lumino The Dentists were delighted to provide the school with a bag load of Lumino toothbrushes to hand out to the kids.
"The toothbrushes may seem just a small thing to many people…but to the kids it's huge," she says.
Making things happen…
Sarah Corson is the person that makes things happen.  Her role at the school is funded by The Hugh Green Foundation, a charitable trust dedicated to improving living standards and the social well-being of New Zealand communities.
Sarah's role is one that was desperately needed in the school when she started earlier this year.
She is obviously passionate about her local community and it's quite clear it takes someone special to do the job she does. It's also not the type of job you leave behind at work at the end of the day.  She honestly points out how different life is just 10 minutes away in Clevedon, where she lives with her own children.
Ask Sarah what she most loves about her job, her reply – "It's the best job in the world…I don't quite know what I am for these kids, they just know I make things happen," she says.
She describes her role at the school as "enabling things to happen, enabling opportunity for the school and the kids…it's not rocket science, people always want to help, companies are happy to come on board, I just make it happen," she says.
"With privilege comes responsibility," she adds.
At the school, lunches are provided for around 40 kids per day through Eat My Lunch, there is an on-going relationship with the local Countdown supermarket who donate left over baked goods to the students daily and the spread of breakfast foods available at the daily Breakfast Club is also donated.
Before coming into the school, Breakfast Club was running two days per week, with the Painga Project it now runs every day, thanks to two Takanini old boys who now support and fund Breakfast Club as a student enterprise.
Senior School Leaders organise and operate the daily Breakfast Club and at the end of each term they get an out of school adventure. Plus, they agreed on and leave a legacy to the school when they move on to College.
"The senior students learn valuable life and work skills and discover that with work comes reward. And most importantly, they are huge role models to the younger students," says Sarah.
A "togs treasury" has been set up, so that when the students are lucky enough to have swimming lessons, they have clean togs and towels to choose from.
"These are the things I would have never thought of being in need," says Sarah.  "We live in a world now where we have a different type of poverty – it's tougher," she adds.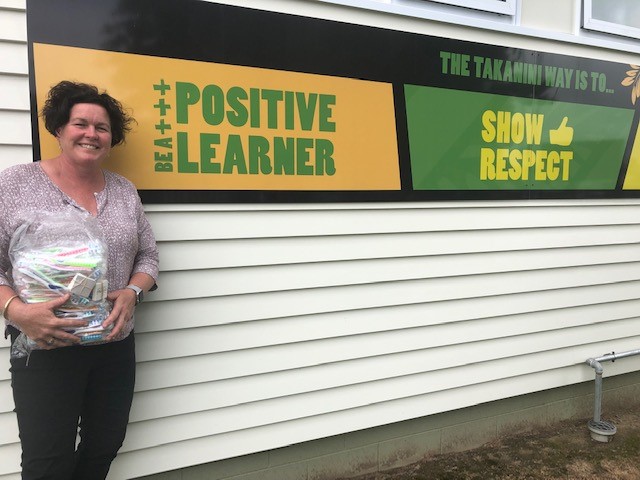 It's clear that even just after a few months of being at the school, she understands the needs of the school and children well. She also understands that the work she does is so much more than providing these tangible items for children who need them.
She plays the part of mentor, cheerleader, role model and friend.
Sarah invites the local police into the school, so students have the opportunity to see people in uniform differently, she hopes to start a program where students make their own lunches during Morning Tea time and teach them life skills like washing, cooking and taking care of themselves and not rely on others.
Long term, Sarah hopes that the school will become a type of well-being centre. "The well-being of entire the community can begin right here at the school," she says.
Sarah speaks of the kids with heart and belief. She talks of "building pathways" for the students and even mentoring students through their passions, skills and gifts beyond their years at Takanini School.
Lumino The Dentists are proud to support Takanini School, wish Sarah all the best in her endeavours and hope to continue to support The Painga Project for many future years.