Reducing the plastic footprint in a dental practice is no easy task, however one Auckland team has made it a priority to reduce the toll their practice takes on the environment.
Dr Pieter Van Der Merwe of Lumino Smile Studio Orewa is leading the change in cutting down on the practice's plastic use.
He says it's his love of the ocean, being a keen surfer and diver, which has been instrumental in his motivation to steer away from the "plastic culture" we are living.
Single-use plastic items are convenient and often necessary for patient care in a dental practice. Cross infection control and barrier defence will forever be highly important, and so the use of single use plastics have become a stable in the day to day care of patients and clinicians alike.
However, Pieter says health and safety of clinicians and patients, does not need to be compromised with the move away from plastics.
"We change where we can without compromise to the patient's safety. Convenience is probably the very reason why we have this problem in the first place," he says.
In the practice, plastic cups have been replaced with paper ones at the water cooler and in the surgeries, the team use paper wipes with disinfectant instead of disposable (non-biodegradable) wipes and most bibs for patients are now paper rather than plastic.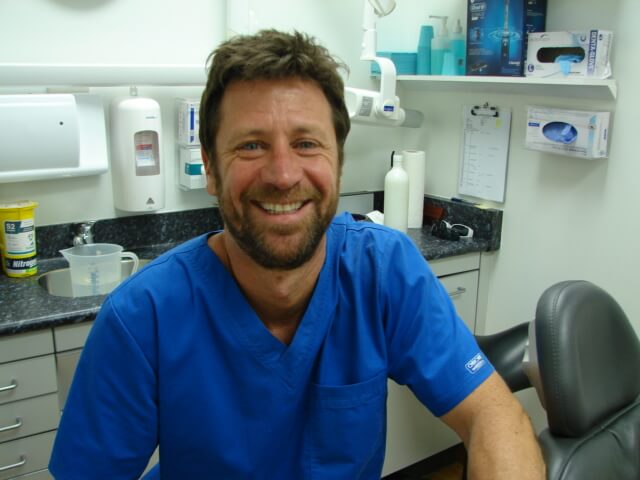 It's not just the tools and equipment Pieter is targeting, the culture of the workplace is also shifting.
Small and subtle changes can have a big impact, he says, and staff have fully embraced the shift.
"As far as the staff room is concerned we are trying to implement as much change as possible," he says. Staff have been provided with re-usable coffee cups which they can take to the café across the road. "We have 14 staff. If half of them have a take away coffee in a plastic cup every day and we work 300 days a year, that would make 2100 pieces of plastic that goes somewhere," he says.
"If Lumino has 100 practises that would be 210,000 per year! If you put 210,000 plastic bottles on Takapuna beach there would be an outrage."
"We try to encourage the use of beeswax wraps for lunch," he adds. "And encourage staff to take their own containers to the sushi shop, rather than use the single use containers provided."
Oral care products can also be friendlier to the environment, with biodegradable floss, eco-friendly toothbrushes and natural mouth washes all available to purchase.
"There seems to (luckily) be a real move in the right direction for this, but it would be nice to see the companies like Colgate get onboard," says Pieter.
Long term, Pieter feels that more and more people are starting to have a real awareness around the issue and says that once you start making these changes in both your personal and professional life, you won't be able stop.
"Let's leave some of all this beauty for the ones coming after us. Would you rather find a piece of bamboo on the beach or a plastic toothbrush?" he asks.
Pieter graduated in 1996 from Stellenbosch University in South Africa with a BChD and subsequently gained a PDD in 2002.His particular areas of interest are endodontics, cosmetic dentistry, crowns and bridges. He joined Lumino in March 2012 and loves "working with the most fantastic team in the world"!
Lumino Smile Studio Orewa is a local institution located in the heart of Orewa. You can easily find us just off Tamariki Avenue on Cammish Lane (next to Lab Tests), with parking available immediately in front of our practice with no steps to negotiate.
Make an appointment at Smile Studio Orewa now, or contact them via phone (09) 426 2251.