Biomimetic dentistry is conservative.
The Academy of Biomimetic's philosophy is "less dentistry is the best dentistry", or, better said: "There is no dentistry like no dentistry." Much of the amputation of tooth structure can be eliminated with modern science and medicaments. Periodontal disease and caries (decay) can be eliminated with modern therapies, hygiene, and proper home care. Such therapies can reduce periodontal problems and tooth infections without significant resection of tissue. If decay or old fillings exist, they can be treated with the most conservative materials and techniques. We can say that preservation and conservation lie at the heart of Biomimetic Dentistry. The heart of the tooth is the pulp, which is the brain of the tooth. Preserving the pulp is vital to the patient's lifelong dental experience. The economic implications of not needing the advanced, invasive care seen in traditional (amputational) dentistry have profound positive effects on people's lives.
We can now help patients create a healthy and happy mouth with simple and often painless techniques!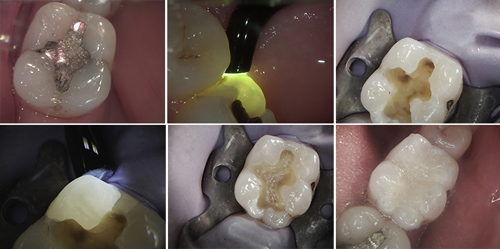 Patient has a normal amalgam filling and not experiencing any problems. Although to a trained eye, we can see that there is a fracture which has been caused from the amalgam filling over the years. In using a Trans-illuminating light on the tooth it shows the fracture. The amalgam is then taken out where we can illuminate the fracture once again. Once the fractures are stabilised and the surfaces have been air-braded, primed and bonded, they are ready for the new filling to be placed. Using a Ribbond lining, which is a Kevlar material which takes some of the stresses off the tooth. Once completed the restored tooth looks like it was originally designed to be like.